Philanthropic Activity of Sansthan in various fields
..................................................................................................................................................................................................................................................
Sansthan's work in spiritual field has following features.

Warkari Shikshan Santha

Palkhi Sohala/ Religious rituals in Sansthan

Distribution of Bhajani Sahitya (Spiritual Musical instruments)

Training for Warkari

Religious and Spiritual Workshops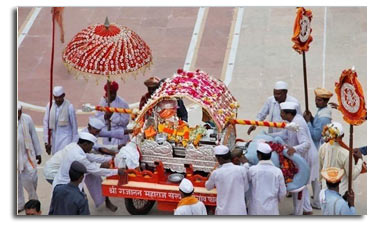 Shree's Palkhi Sohala / Religious rituals in Sansthan

It is great tradition that the Palkhis with Warkaris and Dindies of all saints from Maharashtra reach to the head quarter of Warkari Sampraday i.e. Shri Kshetra Pandharpur. From the year 1968, Shri Sansthan initiated Wari (On food) to Shri Kshetra Pandharpur and Palkhi with Dindi (By Motor) to Shri Kshetra Alandi, with an objective to follow great tradition of Warkari Sampradaya and to enable devotees to visit holy places. Apart from this Shri Sansthan Palkhi also reaches to the holy places - Shri Kshetra Tryambakeshwar, Shri Kshetra Paithan and Shri Kshetra Muktainagar. Dindi encourages people to understand the great virtue like conscience, devotion, sacrifice and knowledge. It also expedites the spiritual work to promote the faith in religion, with great spiritual impact in society. The villages which were once eclipsed by ignorance, poverty, superstition and bad habits are now changing. They got new ray of hope in the form of Dindi.Dindi aims to eradicate all bad qualities in society and modifies the behavior. For Sansthan's Wari (On foot) an expert artist from Banaras (U.P.) had innovatively created the Silver Palkhi of Shree. The outstanding creation of the Palkhi has the beautiful carving which not only appeals us but directly evokes the spirituality at the core of our heart.
Journey of Shree's Palkhi :-

The distance of Shree's Palkhi (Wari On foot) from Shegaon to Shri Kshetra Pandharpur is about 750kms and return journey is 550kms. Thus totally 1300kms distance is covered.

The holy places on the route of Shree's Palkhi to Shri Kshetra Pandharpur

Shri Kshetra Nagzari – Shri Kshetra Davha – Shri Kshetra Shirpur Jain – Shri Kshetra Narsi Namdeo – Shri Kshetra Aundha Nagnath – Shri Kshetra Tridhara – Shri Kshetra Gangakhed – Shri Kshetra Parali Vaijanath – Shri Kshetra Ambajogai – Shri Kshetra Ter – Shri Kshetra Tulajapur – Shri Kshetra Solapur – Shri Kshetra Machnur – Shri Kshetra Mangalwedha – Shri Kshetra Pandharpur.

Return journey of Shree's Palkhi

Shri Kshetra Aran via Kurmdas –Shri Kshetra Barshi (Bhagawan) –Shri Kshetra Kunthalgiri –Shri Kshetra Kapildhara – Shahagad – Jalna – Nhava – Sindakhed Raja – Lonar – Mehakar – Khamgaon – Shegaon.

Welcome of Shree's Palkhi:-

Devotees Bhajani Mandals, Musical bands, Women with Tulsi Vrundavan egarly wait for the holy arrival of Shree in the form of Palkhi. The way of Palkhi is decorated with rangoli designs. The whole village wears an air of holy celebration and with a great faith the Palkhi receives the grand welcome of showering petals.
The villagers welcome the Warkaris in Shree's Palkhi with tea and snacks and the people offer shawl and Shrifal (coconut) with great faith to Shree's Palkhi.

Facilities during Journey
The Warkaris in Shree's Palkhi are provided lunch and dinner. Also tea and snacks are provided by Shree's devotees in the way. Their stay of night is arranged in school, multipurpose hall or in Dharmashala with basic amenities. Water is also kept available for bath in morning. Somewhere devotee provides facilities to Warkaris as per their ability.

Service provided to other Dindies on the route:-
Along with Shree's Palkhi, a number of other dindies (on foot) march towards Shri Kshetra Pandharpur. Sansthan does not neglect them, but provides Prasad in form of cloths to the Chief of Dindi, Chopdaar and Veenekari.
Sansthan provides the medical service (medicines, injections, saline) free of cost to the needy Warkaris. The tankers of drinking water are arranged time to time.