Important places in Mandir premises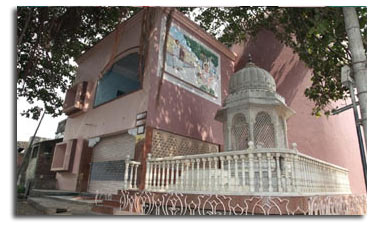 The holy places in Shegaon where Shree visited

Shree Pragat Sthal:

Shri Gajanan Maharaj was first fortunately seen in Shegaon under this giant tree on Magh Vadya Saptami, Shake 1800 (23rd February 1878). The place where Shree appeared belonged to Shri Mote's Haweli (Mansion). Later Shri Mote generously merged this place in Sansthan. The memorial built here by Sansthan is known as – 'Shree Pragat Sthal.' Shree's Padukaare kept here in Meghadambari. The beautiful sculpture showing Shree'sappearing in Shegaon can also be seen here. Sansthan also built here a multipurpose hall which is used for social function and auspicious occasions.